Artistic Postcards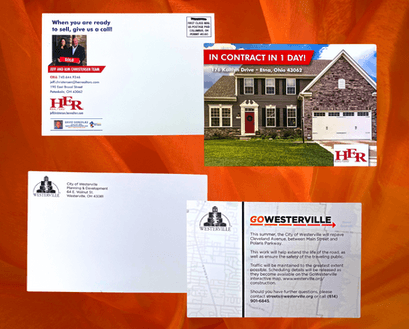 Marketing postcards are an inexpensive and effective way to reach your audience, a tried-and-true method that's been used for decades and shows no sign of stopping. Targeted marketing pieces can quickly convey key messages and offerings, and are guaranteed to pass through the hands of your target audience at least once-- unlike an email list that can instantly be moved to trash without a second glance. Trust our staff of experts to create a custom postcard for yourself or your business.
We specialize in:
Full-Color or Black-and-White (one or both sides)
Variety of Shapes & Sizes Available
Direct Mailing-- Once we've created your masterpiece, let us handle the shipping for you!
Business Postcards-- Increase awareness of your business by targeting local areas that you serve
Promotional Postcards-- Increase curiosity and traffic by promoting coupons, sales, and other exclusive events/offers to potential customers
Invitation Postcards-- For events that don't quite need a handwritten card and envelope, keep it simple with an eye-catching graphic on one side and your event details on the other. A great option for open houses, grand openings, and so much more.
Resident Notices-- Easy and useful way to let the community know about upcoming changes, from road cleaning to construction to school bus schedules.
Custom Postcards-- From family holiday cards, to personalized postcards with your own art as the focal point (a great way to showcase your painting or photography skills!), we love to create beautiful pieces for any occasion.
Want to take your mailing to the next level? Consider including an attention-grabbing promotional product with the postcard you send to customers and prospects.